A Monumental

San Antonio Hotel

Crockett Hotel tops the list of historic hotels in San Antonio. Managed by 1859 Historic Hotels, we're steps away from the Alamo, a pivotal battle in the Texas Revolution. That we are named for Davy Crockett, defender of the Alamo and one of history's favorite frontiersmen is no coincidence. We've operated independently for more than a century, a fact that embodies the Texas state of mind, allowing us to share the best of our state, hotel, and community with you.
Our History
1909
The Three Link Fraternity, an organization dating back to 18th-century England, built our landmark which served as a lodge for its members and a hotel.
1927
A vast expansion of the hotel commenced and concluded with the addition of the seven-story west wing.
1982
San Antonio native, John Blocker, bought the hotel, undertaking a painstaking renovation in an effort to restore the hotel's original architectural details.
2007
An expansive renovation updated the hotel's 138 guest rooms and suites.
Today
Crockett Hotel is listed on the National Register of Historic Structures and is a member of the National Trust for Historic Preservation's Historic Hotels of America.
Hotel Amenities
Complimentary WiFi
Complimentary hot breakfast buffet
Outdoor swimming pool
Ernie's Bar opens daily at 4 pm
Alamo Plaza Spa (at our sister hotel next door)
"Order Inn" Room Service - delivers 11 am - 2 am
Same day laundry and dry cleaning
Stash Hotel Rewards
Valet and self-parking, $28 per day + tax with in/out privileges
Pet-friendly, $60 + tax per pet, per stay
PERSONALIZE
YOUR TRIP TODAY!
Download our brand new complimentary app now and begin planning your San Antonio escape! Compatible with iPhone, iPad and Android Devices, and ideal for simplifying your busy schedule.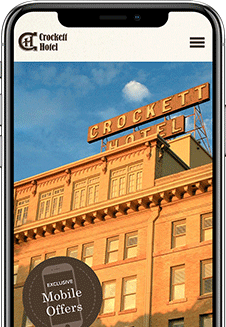 Best Rate Guarantee
Book directly with confidence because the Crockett, a historic hotel, guarantees you the absolute best rate. Found a lower published rate? Contact us by email at reservations@crocketthotel.com. Include your name, Crockett Hotel confirmation number, and the site where you found the lower rate available. We will contact you by email within 3 working days. Once the Best Rate Guarantee has been confirmed, a rate match will be made.
Private Rates
By booking directly through the Crockett, guests are guaranteed the best available rate along with complimentary WiFi, free breakfast, two adult beverages at Ernie's Bar, and our free 24-hour cancellation policy prior to arrival. To top it all, we present exclusive private rates and offers to our loyal guests!